Sermons of Benny Hinn

Benny Hinn (March-15-2019) Sermon: Experience God's Healing Power. Capacity crowds came for the services at Catch the Fire Church in Toronto, Ontario, enthusiastically welcoming Pastor Benny Hinn back to his teenage home-town. This was the place where he received Christ as Sa...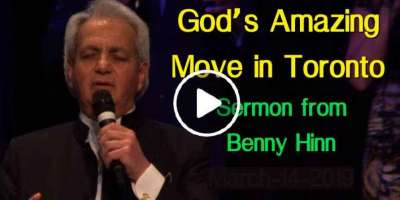 Benny Hinn (March-14-2019) Sermon: God's Amazing Move in Toronto.
Toronto, Ontario was Pastor Benny Hinn's teenage home and the city where he not only experienced a life-changing encounter with the Holy Spirit but also began his ministry more than 40 years ago. On today's ...
People around the globe know Pastor Benny Hinn as a noted evangelist, teacher, and the author of best-selling books including Good Morning, Holy Spirit, Prayer That Gets Results, Blood in the Sand, and Lamb of God. His TV program, This Is Your Day, is among the world's most-watched Christian programs, seen daily in 200 countries. Yet there is much more to the story of the man, and his ministry, who has impacted the world for more than four decades with the life-saving and miracle-working message of the Gospel of Jesus Christ.