Sermons by Derek Prince online
Watch Derek Prince - The Cause For The Breakup Of Families. Bible teacher Derek Prince confronts us all with this message: not only material things, not only governments and institutions, but also families will be shaken. Has this breakup of families already begun? ...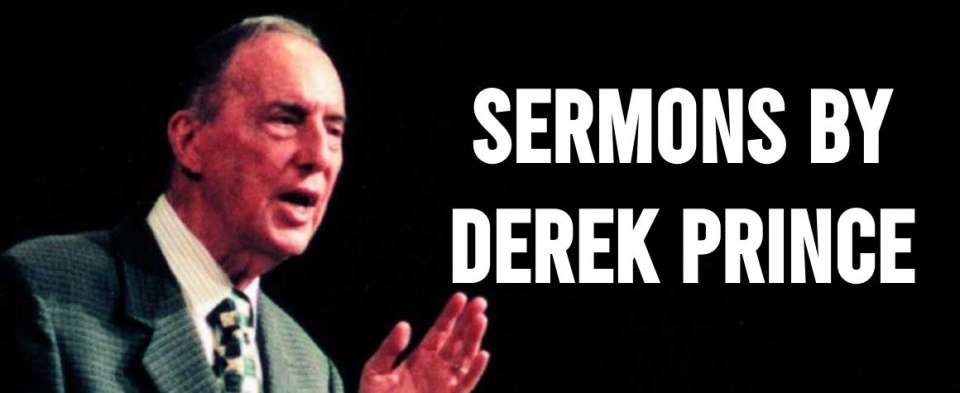 ONLINE SERMONS by PASTOR DEREK PRINCE 2022 BROUGHT TO YOU AT YOUR DOORSTEP.
Where to find Sermons By Derek Prince.
The great evangelist Dwight Moody once said, "When I was a young Christian, I thought that God kept His gifts on shelves and the best gifts were on the highest shelves and I would have to reach up. I learned later the best gifts are on the lowest shelf and I had to stoop down." The truth is, the more you grow the more you are enlightened with certain Ideas. Sometimes, I ask myself How well do we understand Scriptures? In the book of James chapter 5:14-15, James said, " 14 Is any sick among you? let him call for the elders of the church; and let them pray over him, anointing him with oil in the name of the Lord: 15 And the prayer of faith shall save the sick, and the Lord shall raise him up; and if he have committed sins, they shall be forgiven him." The question is who are the elders of the Church? To many, the elders of the Church are the oldest people in the Church and this is certainly not true. In that Scripture, it would mean the elders of the Church are those who are Spiritually led and have attained a stand in Christ that they no longer fall sick and within them is the ability to lay hands on the sick. You maybe as old as something yet you are a baby in the things of the Spirit that needs growth. Growth is principal in every believer's life and is Paramount in existence as a believer. The question now is, How do I grow Spiritually? Pastor Derek Prince Ministries is one of trustworthy Ministries in our present time that delivers the gospel of our Lord Jesus Christ in his Sermons to billions all over the world with the aim of ensuring spiritual growth in the believer and also ensuring that the gospel is preached to the unsaved. Pastor Derek Prince is best known for His desiring in souls winning. He once said, " Jesus Christ is the divine, eternal Son of God, who became a member of the human race by virgin birth. He led a sinless life, died on the cross as a propitiatory sacrifice for the sins of humanity, was buried and rose again in bodily form from the grave on the third day. He ascended into heaven, whence He will return to earth in person, to judge the living and the dead. Everyone who repents of sin and trusts in the sacrifice of Jesus receives forgiveness of sins and the gift of eternal life. With pastor Derek Prince prayer time, many have their problems being solved and burdens lifted up by our Lord Jesus Christ.
With Derek Prince Study Bible and Bible teachings, Bible teacher Derek Prince shows how the forces behind blessings and curses might be at work in your life. Drawing from God's Word and real-life experiences, Prince will help you understand your personality in Christ, the causes of curses--occult activity, hidden sin, abuses, abandonment, even sin from a previous generation--and teach you how to be set free from curses, so you can start enjoying the benefits of God's blessings. You can also look at Derek Prince series on the book of Psalms. In his psalm 91 teachings, He explains deeply the protection of God and the role of the believer.
This unofficial website Derek Prince Sermons Online is on a mission to bring closure to you all Sermons, devotions, inspirational messages, Derek Prince Ministries live stream, services, videos, the best of 2022 messages and videos and all latest updates pertaining to Godliness. The believer must live everyday in the Word of God to grow in Faith and Power. You can also have access to his sermons through His YouTube channel.
Why should I watch Pastor Derek Prince Sermons Online?
Derek Prince is best know known for His heartfelt messages on Obeying the voice of God. Well, watching his sermons is listening from the Spirit of God. Jesus said His words are Spirit and Life unto they that hear them. This life is also embedded in the lips of his prophets. Through all that has been presented;
do you sense the Lord stirring your heart right now?
Is He prompting you to adjust your ears and your heart to hear and obey?
Are you seeing the necessity to open up your spirit to Him in a greater way?
If you feel like you haven't been very successful in this process of hearing and responding to God's voice, don't be discouraged. You and I can do a course correction right now. We can simply let the Lord know of our hope to respond more appropriately to His voice by Listening to Derek Prince Online Sermons.