Daily Devotionals by Joseph Prince 2022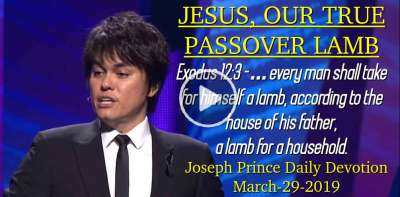 Joseph Prince (March-29-2019) Daily Devotion: JESUS, OUR TRUE PASSOVER LAMB.
Exodus 12:3 - …every man shall take for himself a lamb, according to the house of his father, a lamb for a household.
Jews worldwide celebrate the Passover feast. The feast, which has been kept for generations, commemorates the delive...
Joseph Prince (February-28-2019) Daily Devotion: GOD CAN TURN YOUR EVIL DAY INTO GOOD DAYS.
Esther 9:22 …rest from their enemies…sorrow to joy…mourning to a holiday…
Today, many Jews still celebrate the feast of Purim. The name Purim is derived from "the lot" which a Gentile, Haman, cast concerning the fate of...